Reduce the consumption of workpieces during the cutting process. Cut of wheels exported to South Korea are well received by customers.
The thickness of the cutting disc has a crucial influence on speed and quality. In theory, it is also possible to cut some materials with a grinding disc.The only question is how much effort, time and materials it takes.(Ideally, the angle grinder will not rebound or move from left to right during the cutting process).The thinner and more precise the slice, the less material used, the lower the possibility of sparks and the lower the temperature.

Performance features:
1.Excellent grinding ability and high wear resistance ensure that the blade has a long service life.
2.The high hardness of the binder makes the blade highly rigid, so that the blade will not deform during cutting, so as to ensure the perpendicularity of the cutting surface.
3.Through the fine allocation of abrasive concentration and particle size, it can have good cutting efficiency on the premise of meeting the requirements of cutting surface finish.
4.Advanced and scientific processing means and strict process control ensure that the shape and position dimensions of the blade have high accuracy.
5.The accurate classification of binder meets the requirements of selecting special blades for processing different materials.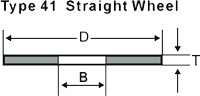 Product Features:
1, ultra-thin
2, good sharpness
3, excellent durability
4, vertical cut
5, cost-effective
Product Parameters:
107X1.0X16
107X1.0X10

Application and After-Sales Service:
Applicable to all metal/stainless steel cutting
Can be OEM