Metal cutting discs, Metal cutting wheels.
The metal cut off wheels can be made flat or depressed according to customer's requirements, Resin bonded abrasive wheels, two or two and half fiber glass nets reinforcement, T41 flat cutting wheels, T42 depressed center cutting wheels. Mixed high quality brown aluminum oxide and white aluminum oxide.
Product Details:
In order to meet the processing requirements of different workpiece materials, the cutting chips are divided into different hardness levels. The cutting disc is selected too hard, the abrasive grains are not easy to fall off, but it is easy to block. The increase in grinding heat makes the workpiece easy to burn, and the grinding efficiency is low, which affects the surface quality of the workpiece; if the cutting disc is selected too soft, the abrasive grains will fall off when they are still sharp, which increases the loss of abrasives and easily loses the shape of the workpiece to be cut. Workpiece accuracy.
Principles for selecting the hardness of cutting blades: choose a harder cutting blade when grinding soft materials, and a soft cutting blade when grinding hard materials; when grinding soft and tough non-ferrous metals, the hardness should be softer; For materials with poor thermal conductivity, choose a softer cutting blade; when end grinding is better than circular grinding, the hardness of the cutting blade should be softer.
Under the same grinding conditions, the hardness of the cutting disc with resin bond is 1~2 levels higher than that of the ceramic bond grinding wheel; when the cutting disc rotates at a high speed, the hardness can be selected as soft 1~2 levels; grinding with coolant, The cutting blade hardness is 1 to 2 grades higher than that of dry grinding. The choice of bonding agent should be considered according to the grinding method, use speed and surface processing requirements.
The above is about the choice of the hardness of the cutting disc. In selecting the appropriate hardness of the cutting blade, comprehensive consideration is given to factors such as the contact area between the cutting blade and the workpiece, the shape of the workpiece, the method of grinding, the cooling method, and the type of bonding agent.

Product Features:
Thinner, faster cutting with little burring
Excellent durability
Excellent sharpness
High stability
Cool cut
Highest possible economic value
less material loss
Superior quality with ratio price
Working comfortable and Safety
High performance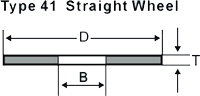 Product Parameters:
230X2.5X22.23 T41/T42
230X3.0X22.23 T41/T42

Application and After-Sales Service:
cutting of solid material, sections and pipes
OEM is available