Resin bonded abrasive products, two fiber glass nets reinforcement, T41 flat cutting disc. Made of friable Aluminum oxide grains. No Iron, Sulphur and chlorine, High security and performance. Superior quality with ratio price. Specially developed for stainless steel (Inox) and Stainless steel casting. This specification exported to many European countries.
The cutting blade can be used to cut thin stainless steel profiles, which saves materials. Thicker cut materials with a larger thickness, such as bolts, angle irons, and square tubes, have higher strength and are not easy to burst. In addition to the selection of qualified cutting discs, the correct technique is very important. Poor flatness of the cutting disc, uneven structure of the cutting disc, high hardness of the cutting disc, and lack of toughness of the cutting disc resin will cause the cutting disc to break.
Product Details:
In order to avoid accidents, the following points are required:
1. To have sufficient strength, the rotation strength of the normal cutting disc must reach 1.5 times the speed of use.
2. To have a good flatness, the flatness of the cutting piece should be controlled within 0.3mm.
3. Choose a suitable cutting blade. Because the use of the cutting blade is more complicated, you must choose the hardness of the cutting blade according to your own needs. If it is too hard, it will break, and if it is too soft, it will increase the cost.
Cutting efficiency is what every factory values. Only by improving work efficiency, can there be more benefits. The size of the cutting piece also has an important relationship with it. The improper cutting machine and the different materials of the cutting workpiece will lead to low cutting efficiency. And even more should choose the appropriate cutting blade to ensure fast cutting speed and high efficiency.

Product Features:
Thinner, faster cutting with little burring
Excellent durability
Excellent sharpness
High stability
Cool cut
Highest possible economic value
less material loss
Superior quality with ratio price
Working comfortable and Safety
High performance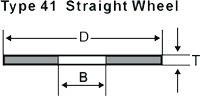 Product Parameters:
230X2.0X22.23 T41/T42

Application and After-Sales Service:
cutting of solid material, sections and pipes
OEM is available