Two glass fiber nets reinforced, Combines a variety of high-quality abrasives.
Smooth fracture, long use life, can work on all kinds of metals. Excellent sharpness.
Products can be customized.
Product Details:
Abrasive tools are one of the important tools of industrial production and an indispensable part of the national economy. Many important industries such as steel, aviation, automobiles, shipbuilding, machine tools, instruments, measuring tools, bearings, etc. are inseparable from abrasive tools. It is precisely because grinding processing is becoming more and more important in mechanical processing, so some countries often take the proportion of grinding processing in mechanical processing as a sign to measure the level of mechanical processing technology.At present, various industrial sectors are developing towards high speed, high precision and high efficiency. The application range of the grinding processing industry will become wider and wider. The output, quality and variety of abrasive tools must be continuously improved and expanded to adapt to this Development requirements.
The abrasive tool industry developed with the development of the entire industry. In ancient times, people used natural rocks for grinding, which was the earliest grinding. With the development of society, the grinding industry became more and more complex, and the requirements for abrasive tools became more and more demanding.High, natural rock can no longer meet the requirements of grinding, people began to study new abrasives.Brown fused alumina came out in 1901, and white fused alumina began production in 1910.In addition to external cylindrical grinders, internal grinders, roll grinders, and universal grinders have emerged in terms of grinding machines.The basic processing workshop has been included in the grinding process.After 1940, various more precise grinders appeared one after another. Due to the higher and higher processing precision requirements, the degree of automation has reached a considerable level.

Product Features:
1, smooth fracture
2, vertical cutting
3, easy to use
4, quality stability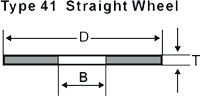 Product Parameters:
150X1.6X22.23 T41/T42

Application and After-Sales Service:
Applicable to all metal/stainless steel cutting
OEM is available