Made of high-quality aluminum oxide; Resin bonded.
Use life is twice more than others on the market and cut fast. Applications: all metals
Anger grinder and stational cutting machine.
Cutting discs are used for the cutting of stainless steel tubes, capillaries, glass tubes, quartz tubes, automobile exhaust pipes, brake wires, tungsten wires, molybdenum wires, copper wires; and other pipe fittings and filaments, as well as for cutting special steel and workpieces.The grooves have very good results.
Precautions for the use of resin cutting discs:
1. When cutting, keep cutting vertically to avoid jamming of the grinding wheel caused by excessive lateral pressure, which may cause the metal ring in the middle of the grinding wheel to fall off or be damaged.
2. Do not use cutting discs for grinding operations.
3. Choose a cutting disc with a larger diameter to be used with a larger power angle grinder.
4. The weight of the angle grinder itself can ensure the cutting force required for normal cutting, without the need for additional cutting force.
When you need to do both cutting and grooving operations and less work for polishing, please choose multi-purpose cutting and polishing pads.

Product Features:
1, ultra-thin
2, excellent sharpness
3, Long use life
4, vertical cut
5, cost-effective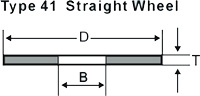 Product Parameters:
125X1.0X22.23
Black or Green

Application and After-Sales Service:
Applicable to all metal/stainless steel cutting
Can is open
Inquiry:
Please Feel Free To Ieave Your Needs Here, A Competitive Quotation Will Be Provided According To Your Requirement.