Mixed aluminum oxide.
Two meshes reinforcement
400 pieces a carton, 4 inner boxes
Products can be customized according to the customer's requirements
Abrasive cutting wheels production process:
1. Cold pressing process
The binders used are wetting agents and powdered resins. Liquid phenolic resins, furfural, furfuryl alcohol, cresols, etc. are commonly used as wetting agents. Liquid phenolic resins are more commonly used.
2. Semi-hot pressing process
The pressing temperature is generally 50-65°C. At this pressing temperature, the viscosity of the liquid resin becomes smaller, and the powdery resin can be well integrated, so that the fluidity of the entire resin system is improved, and it is easier to fully penetrate each space even if the press The pressure is not too high, and the cutting sheet can be formed well, and it does not need to be too long. It is especially suitable for continuous operation of the automatic pressing production line.
3.hot pressing process
The mixing requirements are different from the cold pressing process. Generally, dry blending is used or less than 1% of the weight of the abrasive is used as a wetting agent to wet the abrasive and then mixed with the powdered resin evenly.
When the cutting disc is working, it must stand on its side and must not be operated frontally to avoid the grinding wheel flying out or breaking out and hurting people when it fails. After all, this is working under high-speed rotation.
The above is the processing technology of cutting discs organized by Changfeng Grinding. Hope the above knowledge can be helpful to you.

Product Features:
1, ultra-thin
2, Safe
3, easy to use
4, vertical cut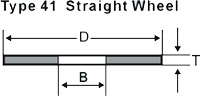 Product Parameters:
125X1.2X22.23
125X1.2X16
Black or Green

Application and After-Sales Service:
Applicable to all metal/stainless steel cutting
Can is open