The bendable elastic grinding disc is a kind of grinding disc in the resin bond grinding wheel with new materials and technology. Its biggest feature is moderate flexibility, good tensile strength, impact resistance, and bending strength. It can avoid the impact damage to the surface of the workpiece caused by the vibration of the grinding wheel. In addition to general grinding, it can also provide surface precision machining and arc surface machining (such as grinding glass, marble, stainless steel and other metal and non-metal flash).
The main feature of this kind of grinding disc is that the grinding does not change color and does not burn the workpiece, which makes the grinding operation faster, safer and more economical.
Types of Angle Grinding Discs:
According to the abrasives used, it can be divided into ordinary abrasive (corundum and silicon carbide, etc.) grinding wheels and natural abrasive super-hard abrasives and (diamond and cubic boron nitride, etc.) grinding wheels; according to the shape, it can be divided into flat grinding wheels, beveled grinding wheels, cylindrical grinding wheels, Cup-shaped grinding wheels, dish-shaped grinding wheels, etc.; according to the bonding agent can be divided into ceramic grinding wheels, resin grinding wheels, rubber grinding wheels, metal grinding wheels, etc.
The characteristic parameters of the grinding wheel mainly include abrasive, viscosity, hardness, bonding agent, shape, size and so on. Since the grinding wheel usually works at high speed, it is necessary to carry out a rotation test (to ensure that the grinding wheel will not break at the highest working speed) and a static balance test (to prevent vibration of the machine tool during work) before use. After working for a period of time, the grinding wheel should be trimmed to restore the grinding performance and correct geometry.
Abrasive wheels for all metals.
T27 abrasive discs, Bonded by Resin, glass fiber reinforced for Stainless steel (Inox) grinding application. Made of soft corundum, with aggressive grinding performance and log tool life. No matter what applications need to be resolved-deburring, cleaning of welds and root welds. Keendee abrasive wheels suited for all construction tasks.

Product Features:
High grinding rate
Low temperatures during working process, leaves no burn mark.
High quality and safety
Labour costs reduced by saving in set-up times
High security and performance
Superior quality with ratio price

Product Parameters:
100X6.0X16
115X6.0X22
125X6.0X22
150X6.0X22
180X6.0X22
230X6.0X22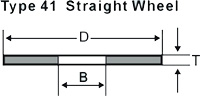 Application and After-Sales Service:
Grinding metal and inox
OEM