Resin Grinding Wheel:
Grinding wheels made of resin bond.The resin has a small shrinkage rate and a low hardening temperature.It can be made into a variety of complex shapes of grinding wheels. It can also be embedded in reinforcing materials such as metal rings and glass mesh cloth.Work under harsh conditions.For example, the speed of the high-speed heavy-duty grinding wheel reaches 50 meters per second, and the load is generally as high as 5000 N.The resin has a certain degree of elasticity, and the mirror grinding wheel made of it can make the workpiece obtain a small surface roughness.Utilizing the plasticity of the resin before hardening, it can also be made into a cutting or grooving wheel with a thickness of 0.8 mm or less.

1. The phenolic resin bond grinding wheel has the advantages of good elasticity and low sensitivity to shock, impact and lateral pressure. Its high stability enables it to adapt to higher speeds and improve the grinding performance, so it is especially suitable for grinding wheels and cutting wheels. Its good elasticity makes it suitable for fine grinding and surface polishing.
2. High-strength and high-speed: With the continuous development of new varieties of modified resins, the strength of resin grinding wheels has been greatly improved, and then the use of wheel speed has been significantly improved.
3. Wider application range:The use of larger resin grinding wheels has been increasing in comprehensive use, and has become a large consolidated abrasive product year after year.At the same time, the application range of resin grinding wheels is very wide, as long as we can think that the industry has already used them.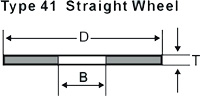 Product Features:
1, Special process
2, Excellent sharpness
3, Long uselife
4, cut vertically
Product Parameters:
Color green cutting discs 107X1.0X16
Color green cutting wheels 107X1.0X10 green

Application and After-Sales Service:
Applications: cut all metals, special stainless steel
OEM is open