Product Details:
1. High bonding strength. Compared with other bonding agents, resin grinding wheels have higher bonding strength, can be used at higher speeds, and can withstand greater grinding pressures, so they are used in the steel and foundry industries to clean up burrs and It is widely used in rough grinding.
2. Resin can be made into abrasive tools with special shapes and special needs. This is mainly because the resin bond is hardened under low temperature conditions and will not change the basic properties of the material, so filling materials or embedding materials can be added for different needs.
3. Resin is suitable for the manufacture of flake grinding wheels of various specifications, which is widely used in the cutting and grooving processes of many metal processing departments. The ultra-thin resin cutting blades with a thickness of 0.1 mm can be achieved.After the completed processing tasks, especially after the high-speed enhanced cutting discs have been widely used, the demand for cutting wheels has increased rapidly.
4. Resin bond has a certain degree of elasticity. In the grinding process, it is helpful to meet the requirements of higher surface roughness of the workpiece. In the machining process, resin bond grinding wheels are mostly used for fine grinding and polishing processes, and they are carried out under the same conditions.For grinding, the finish of resin grinding wheel abrasives is higher than that of ceramic abrasives.

Product Features:
1, single net
2, less cutting time
3, good durability
4, vertical cutting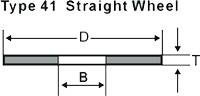 Product Parameters:
Resin bonded abrasives
Products thickness can be customized.

Application and After-Sales Service:
Applications: cut all metals, performed on metal pipe very well
OEM is available