Excellent sharpness and long use life. Cutting efficiency is very high. Applicate to all metals. 4.5 inches cutting discs exported to Eastern Europe; customers have never complained about product quality problems.
Resin cutting discs, also known as resin grinding wheel discs, are mainly resin abrasive tools using chemical synthetic fiber fabrics as added materials. They have relatively high tensile, impact and bending strength, and high linear speed when used. Resin grinding wheels are often installed on electric and air-driven grinders. They can repair various metal surfaces, clean up welds, solder joints, rust, polish castings, burrs, flash, repair surface defects, and grooving and cutting workpieces. Work. The use of resin grinding wheels is efficient and safe, and is suitable for industrial sectors such as chemical industry, shipbuilding, machinery, automobiles, and construction.
Product Details:
1. Use angle grinder with safety cover, cutting machine with safety cover;
2. Wear protective goggles, masks, earplugs, gloves, and dust-proof clothing;
3. Use at the maximum operating speed of the ultra-thin resin cutting disc, and the maximum operating speed below the number of revolutions;
4. Never use the side of the resin cutting sheet;
5. Use the correct flange. No enhancement: more than 1/3; with enhancement: more than 1/4;
6. Confirm that the resin cutting disc has no chipped edges, cracks, cracks, etc. before use;
7. Store the resin cutting chip in a place without direct sunlight and moisture, and place it horizontally;
8. It is recommended that before using the ultra-thin resin cutting discs, please use it after idling for one minute. When replacing a new type of resin cutting discs, please idling for 3 minutes before use;
9. Secure the object to be cut firmly;
10. If the inner diameter of the resin cutting disc is small and does not match the equipment, please do not change the hole diameter of the grinding wheel.

Product Features:
1, double meshes
2, Excellent sharpness
3, Excellent durability
4, cost effective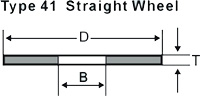 Product Parameters:
115X1.0X22.23
400 pieces a carton

Application and After-Sales Service:
Applicable to all kind of metals
OEM is open