Product Details:
The use of glass fiber and resin as the reinforced bonding material has high tensile, impact and bending strength. It is widely used in the production of ordinary steel, stainless steel and non-metallic materials. The excellent materials and exquisite craftsmanship ensure that different materials The high cutting efficiency of the workpiece and the best economic effect.
Resin cutting blades use resin as the binder, glass fiber mesh as the ribs, combined with a variety of materials, and the cutting performance is particularly significant for difficult-to-cut materials such as alloy steel and stainless steel. Two cutting methods, dry and wet, make the cutting accuracy more stable. At the same time, the choice of the material and hardness of the cutting blade can greatly improve your cutting efficiency and save your production cost.
The cutting disc can be divided into cutting type and polishing type from the way of use. Most of the cutting machines are fixed and mobile, and the power of the machine is divided into high power (>5.5KW) and low power (<3KW).The cutting speed can also be high-speed cutting (>80m/s) and ordinary cutting. In addition, there are many kinds of cutting materials when cutting, such as stainless steel, titanium alloy, ordinary steel, viscous metal, high carbon steel, non-metal and so on.Different use occasions have different performance requirements for the cutting blade, so it is very important to choose a reasonable cutting blade.We have to choose the cutting blade according to the occasions we use, which can increase the safety factor, improve work efficiency, and reduce our use cost.

Product Features:
1, Ultra-thin
2, Smooth fracture
3, Long use life
4, Less cutting time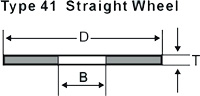 Product Parameters:
115X1.2X22.23
400 pieces a carton

Application and After-Sales Service:
Applicable to all kind of metals
OEM is open